Indiegogo Successful
December 18 2012
Our campaign on Indiegogo.com lasted just over a month and just ended, and just got fully funded, on December 17th. Never having created or executed a crowdfunding campaign before it was a real learning experience. Plenty of mistakes we were able to get away with and learn from while still making the goal of $27K. One of the greatest parts of the whole thing was the amazing supporters, friends and family that really stepped up with a belief in us and our concept. One way or another we were going to figure out how to move forward and get things funded but this campaign was definitely a great way to do that. We got exposure on lots of sites like Outside Magazine Online and Facebook as well as The Discovery Channel online. The middle of the campaign really slowed down dramatically and it seemed reasonable to assume we would not make our goal and thus get none of the funding. But a few key people did a lot to get us the exposure we needed to have a huge last week in which we made our goal with less than a day left!
As we went through the campaign we realized a lot about the timing and preparation of pulling off a successful crowdfunding effort. Rather than wait til a time of year more typical for bike helmet sales we chose the holidays and wondered if enough folks would see a christmas present opportunity in buying a campaign perk. This experiment showed us that there was some potential there but that maybe waiting til Spring would have been just as positive or more. Part of our reality was the ambition to "Just do it" and move things along.
In the coming months we will be updating supporters on our progress and on how we use our funding. The first things we already started on include shopping for the right CO2 laser. We will also be working to get some super awesome t shirts and hoodies printed up and shipped out in January.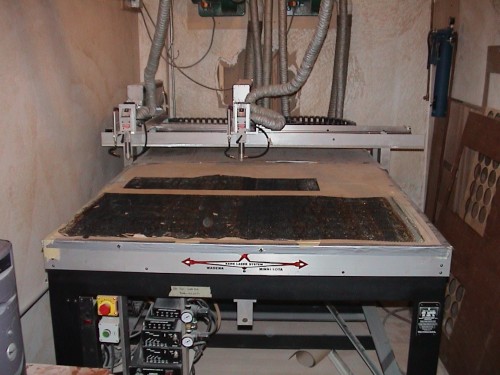 This is the CO2 laser we currently are outsourcing to cut our cork. The guy we work with, Josh, at bc laserworks has been a huge help. In this picure you can see a sheet of material (not cork in this case) that the laser is positioned over. Through software that reads a cutting pattern made on something like adobe illustrator or even word publisher the machine will get instructions on where to send the laser beam and will ultimately cut out the full pattern.